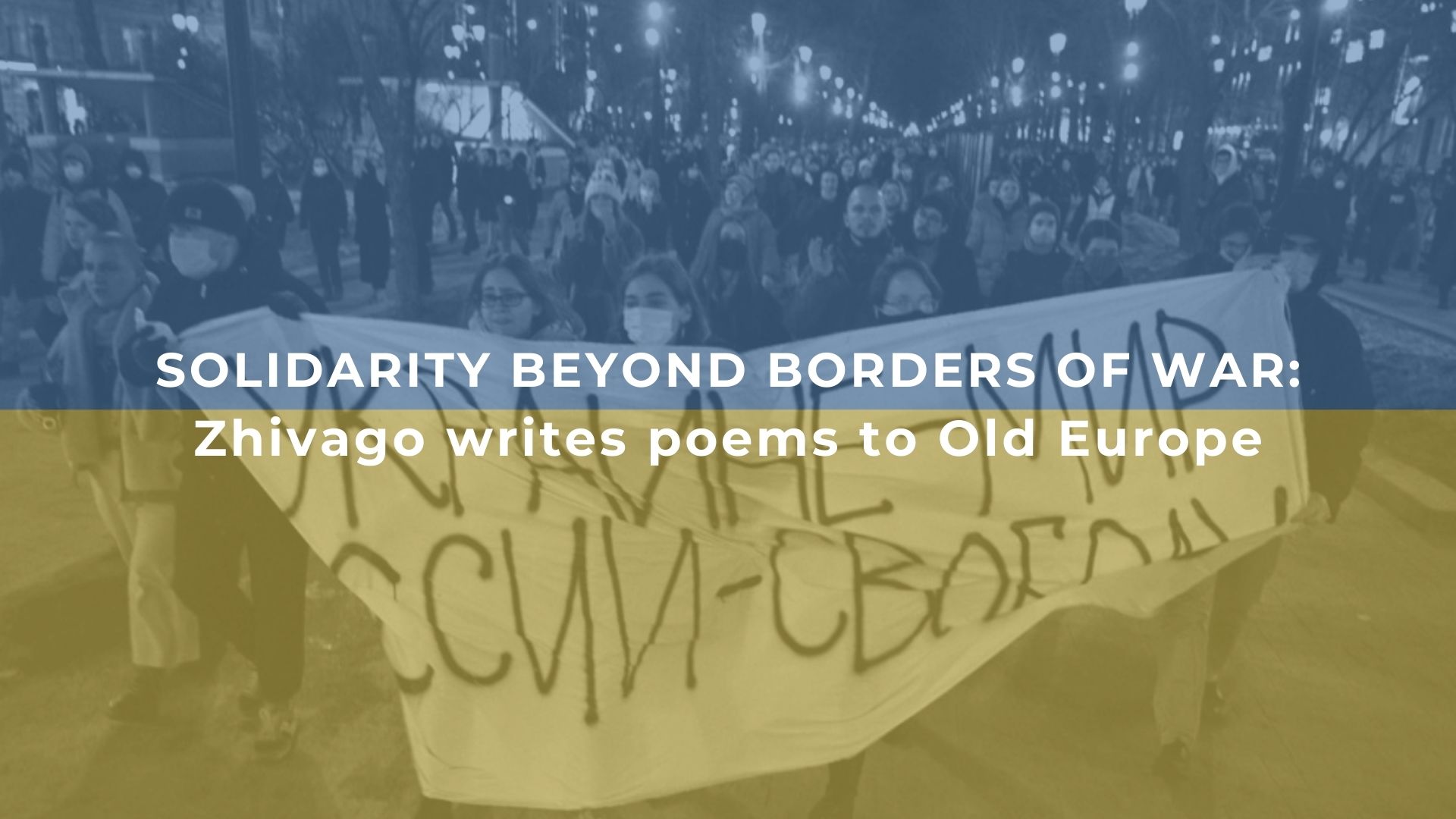 In some corner of a random neighborhood in the city of Mariupol, in Ukraine, a man blows out a candle and leaves his room in darkness. He has heard the advance of the troops and is afraid that the dim light that filters through the curtains will arouse some suspicion. Downstairs, in the street, it is pitch black and the government has decreed a curfew. The brief moment he had found to distract himself is gone. Even for an act as intimate as reading a book of poems, the war takes its unfair toll by denying him a relief valve.
This is how we imagine a multitude of people as prisoners of this war: a deadly trap. On the other side of the continent, in the calm, it is not difficult to also visualize hundreds of people unable to reconcile their reading during any night at the end of winter. During these last weeks, many television networks have shied away from Russophobic attitudes to put on the air classics of European cinema such as Doctor Zhivago, the popular story of the poet who fled the war with his family.
For the past few weeks, a general sense of awe has swept across Europe. There have been many social demonstrations against the invasion of Ukraine. Uncertainty nests in hearts that are orphaned by reasons that could explain the horror that is happening in the East of the continent. Attitudes of public condemnation of what Vladimir Putin's regime symbolizes have not been slow to appear. In particular, a general wave has hung over acts related to Russian culture, now under suspicion. A fairly notorious case has been the dismissal of the famous director of the Rotterdam Philharmonic Orchestra, Valery Gergiev. Despite timidly condemning the invasion, his more than evident ties to Vladimir Putin (was present on his birthday party) and his complicity with the Kremlin leaders have led to the cancellation of the Lucerne Festival. "In view of Russia's acts of war in violation of international law, we are sending a clear signal of solidarity to the people of Ukraine", declared M. Haefliger, Artistic Director of the Festival (Lucerne Festival, 2022).
However, on the other side of the front, in the very heart of Russia, a ray of light projects a timid hope. Around 17,000 workers in the Russian cultural sector (some celebrities -although mostly museum curators and low-profile workers-) have signed a collective letter demanding an end to the war, calling it "senseless and pointless" (York, 2022), putting their freedom at risk. Simultaneously, two countries like Switzerland and Russia have created, perhaps unintentionally, a chain of solidarity that deserves to be spotlighted.
Today they are Russians and Ukrainians. Tomorrow, perhaps it will be the Swiss and the rest of the Europeans. During the last century, two world wars on European soil devastated its populations. We find ourselves in a moment that sounds similar to that time, of great uncertainty and moral crisis in which authors such as Franz Kafka, Hanna Arendt or Walter Benjamin wondered what had broken inside European societies to witness so much horror. Perhaps we can shed some light among the civilians who take refuge at night in books so as not to think about the war, and among the other Europeans who live absorbed in a conflict that is already part of their daily lives. What has happened to the common feeling of belonging in Europe?
INVENT
The nature of the INVENT project stems from the intuition that culture can reveal social attitudes for cooperation and solidarity. Perhaps our survey (INVENT Survey, 2021) can shed some light on the moral thermometer in Europe in our times. Do Europeans enjoy cultural projects from all over the world? Actually, they diverge showing approval at 50% and some indifference at 22%. Similarly, when asked if "In cultural events I often feel a sense of belonging and union with other participants", almost half (52%) declared to agree, while remaining neutral at 31% (INVENT Survey, 2021). It may be that these attitudes express mixed feelings, but also a relative confusion about the cultural nexus that unites the feeling of belonging. In general terms, these results are in line with the movements to cancel events, but they also express a general desire for tolerance: the conviction that culture can be a catalyst for fraternity among peoples. However, without expressing a rejection, the high levels of indecision might point a feeling of uncertainty that already permeated European societies before the outbreak of the war.
This month our homage is dedicated to those who uphold the value of culture with dignity to forge bonds of solidarity beyond borders. This year, Russian cultural workers have taught us a lesson. We the Europeans can indeed open our curtains and raise our sight at that anonymous neighborhood where a man, fearful, narrows his tired eyes in the light of a weak candle. We hope it may inspire the rest of us trying to find solace in their (in the end, our) wonderful culture.
Good luck, and thanks.
Sources
Lucerne Festival (28th February 2022). Lucerne Festival Cancels the Mariinsky Orchestra and Valery Gergiev. Retrieved from: https://www.lucernefestival.ch/en/blog/lucerne-festival-cancels-the-mariinsky-orchestra-and-valery-gergiev-170
Joanna York (2022). War destroys everything: Russian culture workers denounce war in Ukraine. Retrieved from: https://www.france24.com/en/culture/20220305-war-destroys-everything-russian-culture-workers-denounce-war-in-ukraine